Helloooo April 2018! Thank you for coming!  We welcome the Springtime temps, and, yes, even the rain you are famous for, because we know that April Showers Bring May Flowers!   April brings to mind 1952's "Singin' in the Rain"………surely one of the greatest and most wonderfully memorable films of all time.  What a fun, catchy tune about a great way to embrace a rainy day!  Whether you hum, sing or whistle that song, it's sure to bring a smile!  Give it a try!




 mailto:nurses@cprheartsmart.com
 Website: http://cprheartsmart.com
 
P-E-R-S-O-N-A-L-I-T-Y ! ♦ WHAT'S YOUR TYPE?!
Personality.  Yep! Everybody's got one! Learning about and recognizing different personality traits can be a lot of fun. What's more, it can lead to understanding yourself and others better, ultimately enhancing and improving your relationships, both personally and professionally.
Research on personality traits is vast and extensive. The insight gained on this topic from the studies conducted by Robert A. Rohm, Ph. D. is what we would like to share.
When Dr. Rohm noticed patterns in his observations of some major personality tendencies in people, he wound up developing an incredible system to categorize personality types called D-I-S-C Personality Profiles. 
Dr. Rohm's system starts by identifying personality styles in two main categories. (See illustrations below)
     1. Internal Focus:
Task-Oriented or People Oriented
   2. External Focus:
Outgoing or Reserved
From there, it categorizes four primary personalities types, and then a key descriptive word for each type that begins with the Personality Profiles System letters D, I, S or C.
For example, a person that is Outgoing and Task-Oriented is defined as a "D" personality. The key descriptive word is Dominant. Other descriptive words that also begin with "D" are Direct, Demanding, Decisive, Determined and Doer.
Sound interesting? Want to find out your personality type? Head on over to Dr. Rohm's website! (Link below) He has an abundance of resources on the principles of his D-I-S-C System, many of which are free. He also authored a book about his system, entitled "Positive Personality Profiles". It is an excellent read!
D-I-S-C Personality Profiles website: https://www.personality-insights.com/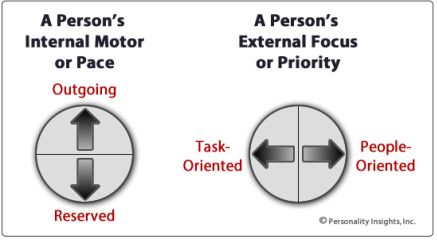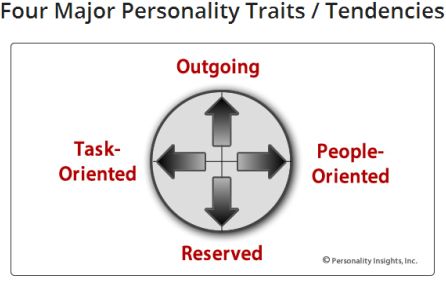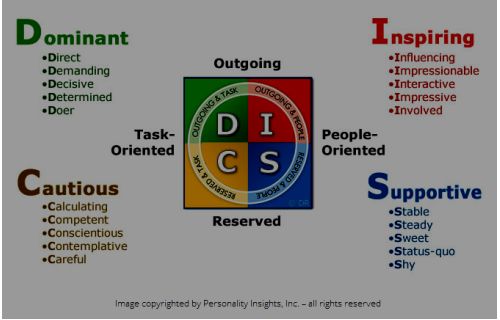 1. Why are restrooms in the Northland Towers Buildings kept locked?                      
 The restrooms on the 2nd floor and above in all Northland Towers Buildings are kept locked as safety and security measures for all concerned. For the convenience of tenants and visitors, restrooms on the main floor of each building are always kept unlocked.
2. What are the business operating hours of the Northland Towers Management Office?
The Management Office is open Monday through Friday from 8:00 a.m. – 5:00 p.m. For issues that may arise outside of these hours of operation, contact the Management by phone at 248-569-3180 and follow the prompts to reach the person on call.
3. What if a staff member gets locked out of a suite?
Northland Towers Management requires authorization from the Leaseholder in order to unlock a suite door for any staff member. If a staff member gets locked out, they should contact the Leaseholder to request a spare key or access. If the Leaseholder is unable to assist, the Leaseholder should contact the Management Office at 248-569-3180 x200 to provide authorization to facilitate access to their suite.
4. Is there a specific procedure to follow in order to request additional keys?
 Duplicate keys can be made onsite here at Northland Towers. The cost is $3 per key. Requests for keys should be submitted to the Management Office in writing by the Leaseholder. When Management has fulfilled the key order, the Leaseholder will be notified. Payment can be remitted at the time of pick up, or added to the next rent payment.
5. What are the guidelines for signage for Tenants at Northland Towers?
Suite and building directory signs are ordered through Northland Towers Management at the time of the initial lease signing.   No other signage is authorized to be mounted or posted anywhere in any of the buildings without Management's authorization. Tenants interested in any type of additional signage, whether temporary or permanent, should inquire with Management at 248-569-3180 x200.
6. Is it okay to prop open a building entrance door?
Building entry doors should not ever be propped open.   Doing so exposes the inside of the building to the elements of the outdoors, such as wind, temperature and rain, as well as animals.