A business space with security in mind
Located in Southfield's Cornerstone District, with easy access to the Lodge and Southfield freeways, this space is perfect for a bank, money lender or any business that needs to keep high-end goods, like jewelry, secure. This first-floor unit at 15565 Northland Dr. is guaranteed not to disappoint, featuring 2,500 of usable square footage and the following spaces:
Vault with Secondary Cage
Office with Storage room
Conference Room
Break Room with Plumbing
High Foot Traffic – Low Profile
Located at the main entrance that connects both the East and West towers of 15565 Northland Dr., this bank space is steps away from over 60 businesses. That is hundreds of employees walking past your door every day. Once you factor in the clientele each business brings you can feel confident that this space will give your business the visibility it needs to thrive.
While having a lot of foot traffic nearby can be nice, it is also important to keep some privacy, especially when working with money or high-value goods. This is why the windows wrapping around the North & West sides of the space are treated with a reflective tint. Allowing you to keep some privacy and avoid prying eyes.
Not only will you be conveniently located to service the main towers but there are two other office buildings which call this property home, the Medical Center and Plaza. Each of these buildings is a short walk away from your future home, further increasing your customer pool.
Vault with Secondary Cage – 147 sq/ft of Security
The main feature of this unit is the vault. Initially, the location was designed for a bank, so this 147 sq/ft vault is the real deal. The vault door has 8 solid metal beams that secure it to the wall once sealed. Inside the main room of the vault (116 sq/ft) are security systems to detect forced entry and alert the authorities. Extending of the main vault is a secondary area (31 sq/ft)  with its own locking cage to keep the most valuable of items secure until the authorities can arrive.
Main Area – 1,575 sq/ft of Freedom
When you first walk into the space, you will find a spacious room currently configured with multiple workstations. However, this space can easily be modified to fit other needs. Plenty of space to work as a sales floor, or we could even convert this area into individual offices. With that much space to work with your imagination is the limit!
Office and Conference Room
To the right of the main entrance is a short hallway connecting to an executive office and a conference room. The executive office has 262 sq/ft of usable space and features an attached 46 sq/ft storage area. At 279 sq/ft, the conference room in this unit provides more than enough room for large meetings.
Don't Miss This Opportunity
With a location that allows for easy access to major freeways and a layout that truly meets the needs of a bank or jewelry store, this space is priced to move fast. If you would like to schedule a time to come and tour the space, then fill out the form below or call Chass at (248) 569-3180.
Floor Plan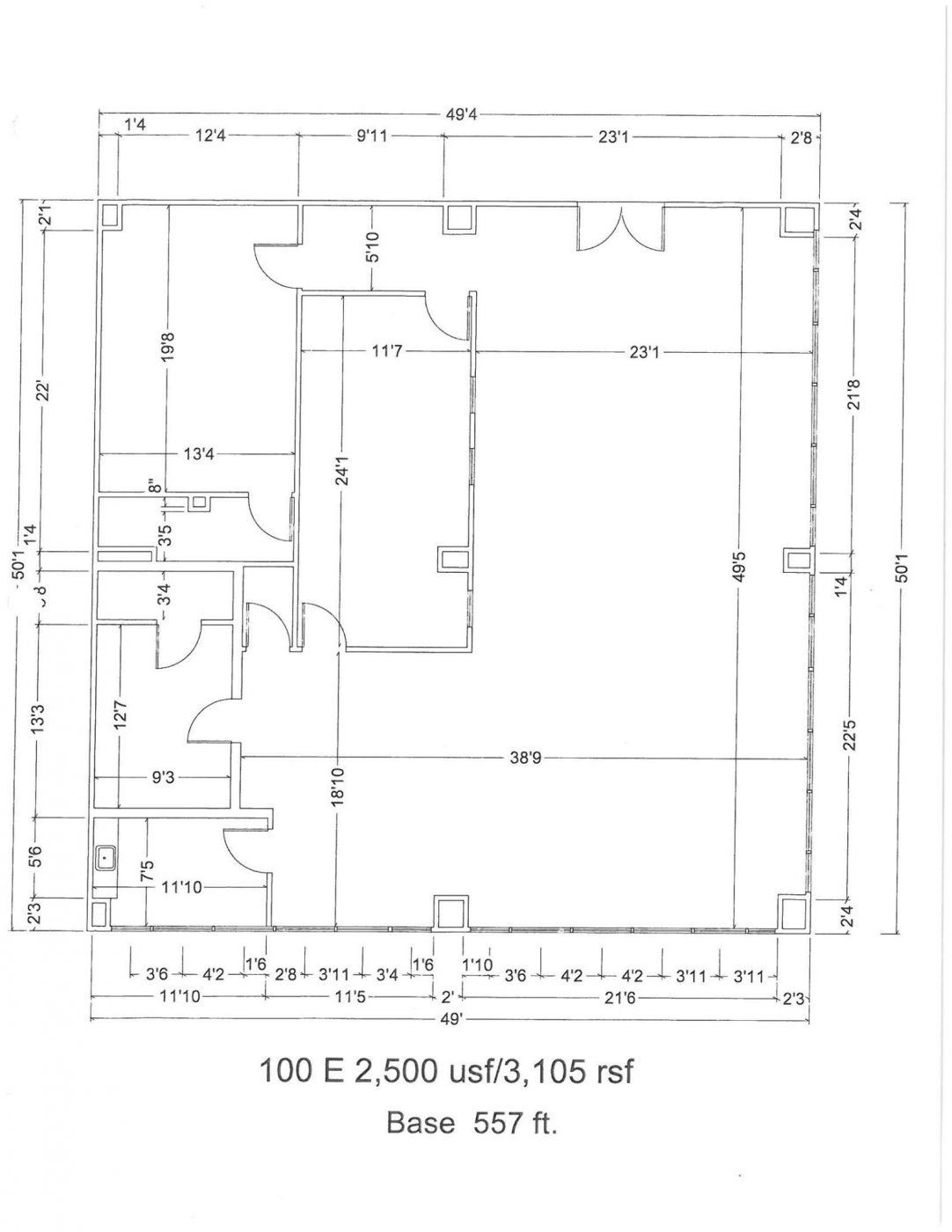 Property Location