School space for lease
Located with easy access to the Lodge and Southfield freeways, this whole floor lease is perfect for a new school or an existing school looking for a new home. When it came to the design of this school space for lease at 20755 Greenfield, we made sure to focus on the unique needs of a school. This third-floor space features 11,249 of usable square footage and the following spaces:
6 Classrooms (2 with plumbing lines)
15 Faculty Offices (With reception areas)
3 Administrative Offices
2 Student Reception Offices
1 Dean's Office (With reception)
1 Study Lounge
1 Break Room (With plumbing)
3 Bathrooms (Men's, Women's, and Handicap)
Student Spaces
---
Without a steady stream of students, a school cannot flourish, which is why we knew it was important that this school space for lease have enough room for students to not only learn but to thrive.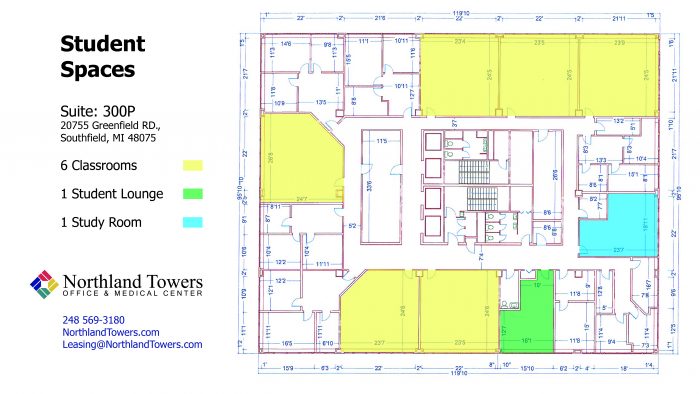 Classrooms
300P features six different classroom spaces ranging in size from 569-655 sq ft. This size is perfect for medium size classes as each class can hold 25-30 students comfortably. This room size allows students to feel like they are not getting lost in a crowd and helps to keep teachers from being overwhelmed. Two of the classrooms currently feature working plumbing and counter space creating more opportunity for different class types.
Student Lounge & Study Room
In between classes, students will have a chance to relax in the lounge and grab a bite to eat or head to the study room to get a firm grasp of their class material.
The 270 sq ft student lounge features plumbing and counter space as well as cabinetry allowing for a fully functioning break room. There is even enough room for a couple vending machines just inside the door, in case anyone forgets to bring some snacks.
The study room is 384 sq ft and features six workstations; this is where students can come when they need a little help understanding the material. There is also plenty of room for research and study guides.
Faculty Office Spaces
---
When looking for a school space for lease one of the most important aspects are the faculty offices. The faculty offices in this unit range in size from 80-200 sq ft. There are 15 offices in total that have been broken up into five groups of three. Each set of three offices shares a reception/waiting room.
This configuration allows the administration to arrange the faculty by department and make it a bit easier for students to navigate the space.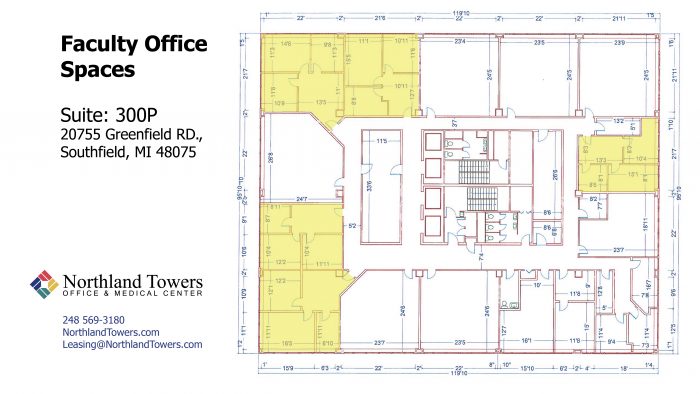 Administrative Office Spaces
---
What would a school space for lease be without administrative offices? A school can not run properly without a solid administrative team; this is why we have made sure to include plenty of space to cover this vital piece of the puzzle.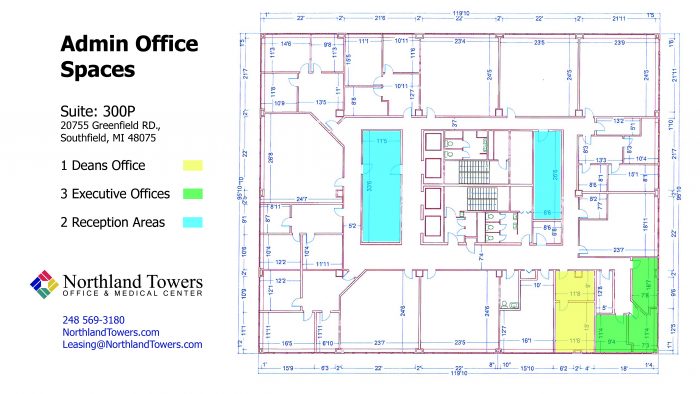 Dean's Office
The dean's office is 175 sq ft and features an attached 105 sq ft reception area. The reception area has to be walked through in order to reach the dean's office behind it, giving some much-needed privacy to the head of the institution.
Executive Offices
Not far from the dean's office you will find three executive offices ranging in size from 80-130 sq ft. These three offices are connected by a single hallway and are semi-hidden from the rest of the floor. This allows the administrative department to run smoothly without worry of interruption by school activities.
Reception Offices
There are two reception areas located on the floor. The first area features 380 sq ft and is located right by the elevators, giving easy access to students arriving for the first time who is in need of assistance.
The second reception area is 225 sq ft and is at the rear of the school near the student study room. Perfect for students needing additional information on current/future classes and class loads.
How can I learn more about this school space lease?
With a location that allows for easy access to major freeways and a layout that truly meets the needs of a thriving school, this space is priced to move fast. If you would like to schedule a time to come and tour the space, then fill out the form below or call Chass at (248) 569-3180.
Floor Plan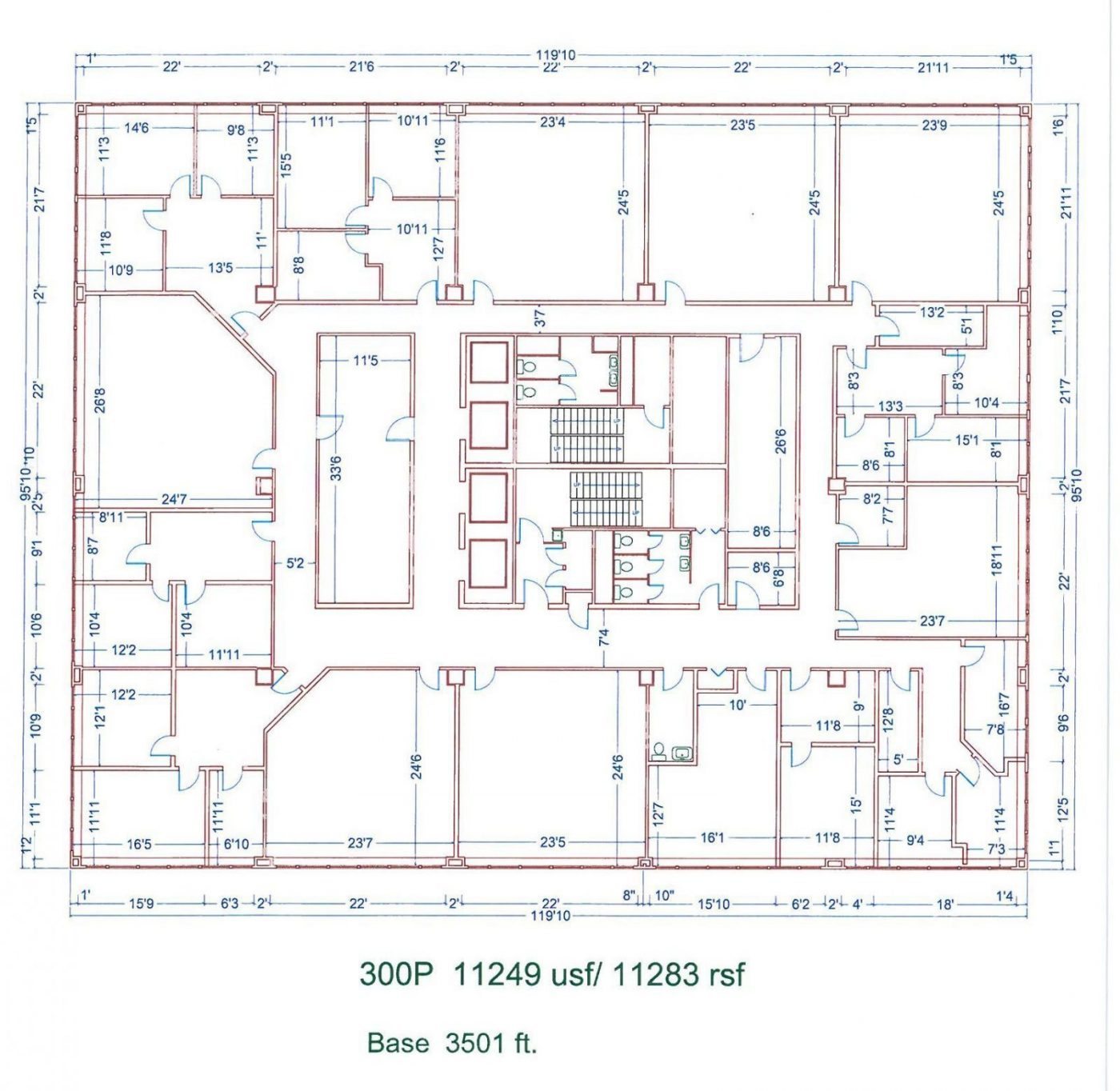 Property Location